STARSkate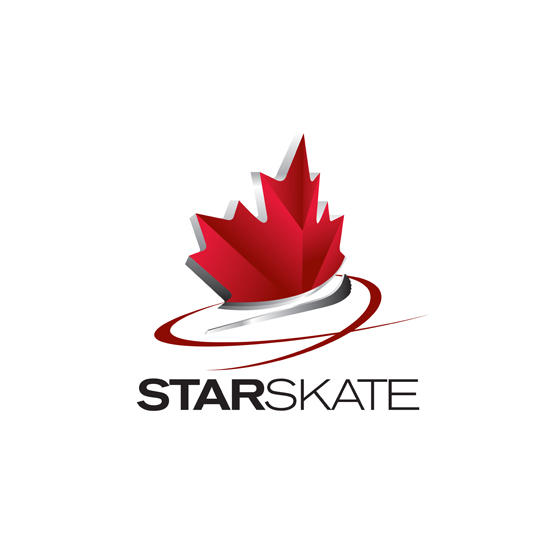 Skills, Tests, Achievement, Recognition – this is what STARSkate is all about!
For our skaters who have successfully progressed through our CanSkate program, our club offers the STARSkate figure skating program. To participate in STARSkate, skaters select a
coach
and, under their guidance, will develop fundamental figure skating skills in the areas of
ice dance

,

skating skills

,

free skate
and
interpretive
skating. STARSkaters progress through an increasingly complex series of skills via
Skate Canada's
nationally standardized testing system.
Who can register for STARSkate?
Skaters who complete CanSkate level 6 are able to move on to work on more advanced figure skating skills in STARSkate.
For more information about joining our ASC's STARSkate program, please see our New to STARSkate page.
Skating Skills
Skating Skills are a combination of fundamental skating movements, executed on
a pattern and skated solo. The basic components of all disciplines of figure
skating are incorporated into the program. The movements are derived from
former compulsory figures, free skating and ice dancing. The objective of the
Skating Skills program is mastery of the basic fundamentals of skating - edge
quality, control, power and speed.
There are six Skating Skills tests in the STARSkate program: Preliminary, Junior
Bronze, Senior Bronze, Junior Silver, Senior Silver and Gold.
Ice Dance
Ice Dance consists of seven levels of tests. It teaches timing, musicality, rhythm
interpretation, structure as well as basic skating skills such as edges, flow,
control and unison.
The dances in the STARSkate Program can be tried in any order but a candidate
must pass the required number of dances in a dance test level, before proceeding
to the next level. In addition to the traditional compulsory dances, there are also
Creative Dances to challenge skaters' creativity, artistry and originality.
The seven Dance Tests are as follows: Preliminary, Junior Bronze, Senior
Bronze, Junior Silver, Senior Silver, Gold and Diamond.
Free Skate
Free Skating consists of the execution of jumps, spins, footwork, field
movements and stroking, either in isolation or performed in sequence to music.
There are six Free Skating tests in the STARSkate Program: Preliminary, Junior
Bronze, Senior Bronze, Junior Silver, Senior Silver and Gold.
Each test consists of 2 parts - Elements in Isolation and a Free Program.
Interpretive
The objective of the Interpretive program is to encourage and develop skaters'
creativity, expression, musicality, movement, interpretation of music, as well as
the use of space, rhythm, line and style. The program provides skaters with the
opportunity to explore the performance aspect of skating without focusing on
technical elements.

The Interpretive tests consist of skating to and interpreting a piece of music 2.0 to
3.0 minutes (+/- 10 seconds) in length. Skaters can take Interpretive tests as
individuals and/or as a couple (male/female, female/female or male/male) at four
levels: Introductory, Bronze, Silver and Gold.
When you register for a STARSkate program, you will have access to:
opportunities to be recognized through a nationally standardized testing system for achieving specific figure skating skills
complimentary Gold Test pins
invitational and interclub competitions, including the STARSkate championship stream
STARSkate Skater of the Year awards program
Special STARSkate events and club functions
Opportunity to be talent-scouted
Opportunity for personal growth and the development of important life skills such as goal-setting, self-discipline, confidence, time management healthy lifestyle and coping strategies to deal with success and failure.
Skaters completing the CanSkate program may enter the STARSkate program (test stream) at the Junior level and progress to Senior and Advanced levels. All of these levels are comprised of a combination of Stroking, Skating Skills, Free skate, Dance and Interpretive. All skaters entering the STARSkate program must have a private coach.
Sessions vary in length and are priced accordingly. The structure of each session will vary slightly depending on its length, but generally will encompass all the above disciplines. The first 10 or 15 minutes is dedicated to warm-up and stroking. This builds strength and endurance, and improves edges for better skating. The last 10 minutes of the session is dedicated to dance, during which dance music will be played according to the Skate Canada guidelines; no free skate is allowed (unless the skater is in a private lesson). The remainder of the session is dedicated to free skate, during which each skater works independently on the skills they have been taught, and receives a private lesson from their coach. Solo music will be played in rotation so that skaters can practice their free skate routines.