There are NO exception days for the Thanksgiving weekend!
All sessions will run as scheduled.
Top Content Title
This is an additional section to be able to add content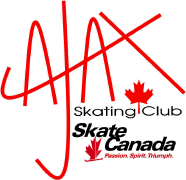 Message from ASC President and Board of Directors!
On behalf of the Members of the Board we would like to thank you for considering joining the Ajax Skating Club. For over 50 years we have been teaching youngsters all the way up to seniors how to skate. Our Coaches are second to none with over 300 years combined experience, they have been teaching Learn to skate, Figure skating and Hockey/Ringette power skating all while having fun! Through our programs, our goal is to provide all our skaters with a way to enjoy being on the ice, increase their fitness level, and for some following a competitive achievement stream.
ASC is committed to making our ice a place for all to skate, if you have a special needs skater that requires extra attention that our programming cannot provide, we have coaches that can accommodate though our affiliation with the Greater Durham Special Olympics Figure and Learn to Skate programs. Please visit www.greaterdurham.specialolympicsontario.ca for further program information.
Our commitment to the community of Ajax and surrounding area is unwavering, and our organization feels privileged to play a role in helping residents of Durham enjoy skating and all the benefits it has to offer.
Please feel free to reach out at any point in time to our office as we have a dedicated staff ready to answer any questions you may have about our skating programs.
Looking forward to seeing you or your loved ones one the ice this season.
Sharp Blades
ASC Board of Directors
Bottom Content Title
This is an additional section to be able to add content