Welcome, we are Ajax's only recognized Skate Canada Club since 1967. Our Skate Canada, NCCP certified professional coaches focus on achieving goals through fun, progressive skill development that can be applied to recreational skating, ringette, hockey and beginner to elite figure skating. We welcome everyone from 3 years old, teens, adults, hockey/ringette players and those with special needs!
You can always feel free to reach our office by emailing us at office@ajaxskatingclub.ca.
HOCKEY and RINGETTE Skating Skills
NOW OFFERING FULL MEMBERSHIP & DROP IN RATES, both options must pay the Skate Canada and Administration fees. Drop in will require weekly online registration prior to entry into the arena (no just showing up) at session time. The following weeks registration will be posted on Wednesdays and Fridays following the current weeks class. Drop In classes are NOT available for the CanHockey session.
Power, speed, quickness, efficiency .... these are all the skills each hockey/ringette player requires to play the game they love. In this class we will work on the fundamental skills and break them down. Through proper technique, muscle memory and repetition, this program will help each player achieve their goals. With confidence, they will skate and stride to success.
This program focuses on specific skating skills for hockey and ringette and is coached by professional Skate Canada Can-Power coaches. Lessons emphasize balance, power, agility, speed and endurance. The program will also help to increase the length of stride as well as the efficiency of forward and backward skating. The CanHockey program is similar to our CanSkate program but focuses more on the skating skills one needs for hockey or ringette playing.
Program Eligibility Requirements: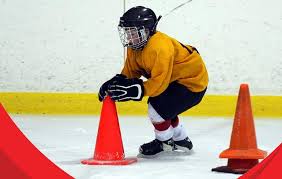 Skaters must be 8 years of age or have passed an assessment by Ajax Skating Club coaches.

Skaters must have completed Stage 4 of the CanSkate Program, able to move independently or have been assessed at an equivalent level by the Ajax Skating Club coaches.

Skaters must have participated in hockey/ringette for a minimum of 2 years.

Skaters must listen and follow directions of the coach at all times. This is a high ratio program and there are not any assistants to provide additional supervision to skaters who are not fully participating in the program. Skaters will be asked to leave the ice if they are disrupting the class and/or putting themselves and other skaters at risk.
Advanced Session Eligibility Requirements:
8 years of age or older

3+ years in a hockey program

As strong forward skills including strong power advancing forward crossovers

All the same as above also apply.
Equipment Requirements:
Skaters must wear full hockey or ringette gear (shoulder pads, elbow pads, hockey pants, shin pads, gloves) and hockey skates.

Mouth guards are recommended but not required.

Hockey Stick due to COVID-19 hockey sticks will not be used at this time. However this will be assessed on regular basis

A CSA Certified hockey helmet is mandatory. Due to Covid-19 a helmet full face shield is highly recommended.

Gear is not available to rent.
---
| | | | |
| --- | --- | --- | --- |
| | Fall 2021 | Winter 2022 | Spring 2022 |
| Tuesday | 7:10 - 8:00 | 7:10 - 8:00 | 7:10 - 8:00 |
| Thursday - Advanced | 7:10 - 8:00 | 7:10 - 8:00 | N/A |
The ASC Board reserves the right to amend the individual session qualifications and change the posted schedule at any time, as necessary for successful operation of club programming.
---
Registration Fees
Fall 2021

# of sessions

Winter 2022

# of sessions

Spring 2022

# of sessions

Tuesday - Full Membership

$420

14

$240

8

$240

8

Tuesday - Drop In

$32 + the below fees at first class

per session

$32

$32

Thursday Advance - Full Membership

$240

8

$240

8

N/A
N/A
Thursday - Drop In

(advance only)

$32 + the below fees at first class

per session

$32

N/A
N/A
When registering for any ASC program, the following fees will be automatically added to your invoice:
ASC Administration fee

$30.00

payable once per skater per skating year
Skate Canada mandated membership fee

$44.00

, payable once per skater per skating year
Sessions are priced according to number of skating days, and adjusted for all Exception Days (holidays, competitions, tournaments, etc.).
Please go to our
registration page
to register for the program. If you require assistance or have further questions please feel free to visit or call the office during regular office hours.