Welcome, we are Ajax's only recognized Skate Canada Club since 1967. Our Skate Canada, NCCP certified professional coaches focus on achieving goals through fun, progressive skill development that can be applied to recreational skating, ringette, hockey and beginner to elite figure skating. We welcome everyone from 3 years old, teens, adults, hockey/ringette players and those with special needs!
You can always feel free to reach our office by emailing us at office@ajaxskatingclub.ca.
CanSkate

(brand new skaters or those working on badge 1 sessions will NOT being offered at this time)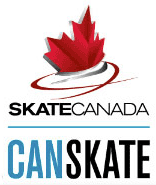 CANSkate is Skate Canada's flagship learn-to-skate program, designed for children ages 5 and up from beginner to advanced. This is where skaters have the opportunity to develop a life-long interest in the sport. CANSkate serves as a feeder into the STARSkate & Competitive Program; however, it is also ideal as a means of preparing skaters for hockey, ringette, speed skating and even pleasure skating.
(If your skater has never skated before, and is between the ages of 3-4 please follow the link to our PreCanSkate program.
The PRE-CanSkate and CANSkate programs focus on the development of 3 fundamental movements organized in 6 stages of learning with continuous on-ice movement. The on-ice delivery emphasizes the use of newer and more dynamic small group (max of 10) teaching concepts including Fast Track and Station Rotation all of which has been proven to increase practice opportunities and improve the rate of skill acquisition among skaters. More visual aids and music are used to create a fun, stimulating and welcoming environment. At the end of every season skaters will receive report cards along with award ribbons or badges.Downloadable Chart
All participants must:
a CSA-approved hockey helmet up to and including stage 5, due to covid-19 helmet full face shields are strongly recommended for skaters.

No bike helmets permitted. THIS IS A MANDATORY REQUIREMENT

wear warm clothing which allows ease of movement. Jeans are not permitted.

wear warm mittens or gloves. THIS IS A MANDATORY REQUIREMENT.

must have your own equipment including skates.
---
CANskate Schedule Click Here for Full Schedule
| | | |
| --- | --- | --- |
| Tuesday | N/A | |
| Wednesday level 2/3 | 5:30 - 6:20 pm | Winter 2021 |
| Thursday level 4+ w/elite | 5:30 - 6:20 pm | Winter 2021 |
| Thursday level 3/4 | 6:45 - 7:35 pm | Winter 2021 |
| Saturday A. | N/A | N/A |
| Saturday B | N/A | N/A |
The ASC Board reserves the right to amend the individual session qualifications and change the posted schedule at any time, as necessary for successful operation of club programming.
---
Registration Fees
| | | | | | | |
| --- | --- | --- | --- | --- | --- | --- |
| | Fall | # of classes | Winter 21 | # of classes | Spring | # of classes |
| Tuesday | N//A | N/A | N/A | N/A | N/A | N/A |
| Wednesday | N/A | N/A | $195 | 5 | N/A | N/A |
| Thursday | N/A | N/A | $195 | 5 | N/A | N/A |
| Friday | N/A | N/A | $195 | 5 | N/A | N/A |
When registering for any ASC program, the following fees will be automatically added to your invoice:
ASC Administration fee

$30.00

payable once per skater per skating year
Skate Canada mandated membership fee

$44.00

, payable once per skater per skating year
Sessions are priced according to number of skating days, and adjusted for all Exception Days (holidays, competitions, tournaments, etc.).
Important note
By registering online all skaters/parents agree to all ASC policies, Skater's Code of Conduct and Athlete's Release as outlined in the online waiver prior to registration.
Schedule is subject to revision based on skater registration should the ASC Board of Directors deem necessary.
Requirements /Policies
No Make ups for Missed Classes: Skaters sign up for a specific session and cannot be accommodated on another session if they have to miss a day for any reason.

Cancelled Classes: ASC cannot make up a class or provide a refund if there is a cancellation due to severe weather or other circumstances beyond the control of ASC.

Refund Policy: See details of our

refund policy

below.
---