CanSkate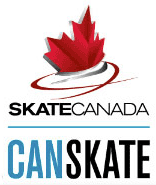 CanSkate is Skate Canada's flagship learn-to-skate program, designed for children ages 5 and up from beginner to advanced.
(If your skater has never skated before, and is between the ages of 3-4 please follow the link to our PreCanSkate program.)
The CanSkate program focuses on the development of six fundamental movements organized in six stages of learning. The skills are arranged in progressions, from very simple to the more complex. Each stage has a primary focus. Once the skills on each stage are mastered, a badge is awarded. Downloadable Chart
Lessons are given in a group format and led by NCCP-certified professional coaches, who are assisted by trained Program Assistants. Our coaches are very focused on proper technique and will devote time to the details of skating, to develop skaters' agility, balance and control.
The small group setting allows skaters to progress at their own rate and coaches make sessions active using teaching aids, music and a wide variety of activities that create a fun environment and promote learning.
Our sessions are offered from September through May and are taught by professional coaches who are specially trained and certified through the National Coaching Certification Program (NCCP).
Skaters must wear a CSA-approved hockey helmet up to and including stage 5, helmet cages are strongly recommended for all stage 1 skaters. Participants must purchase their own skates and must wear gloves during the duration of the class.
The CanSkate program curriculum is organized into three Fundamental Areas, divided into six stages of learning:
The Fundamental Areas are:
Balance: Concentrating on most forward skills, pushing technique and edges.
Control: Concentrating on most backwards skills, stopping and speed elements.
Agility: Concentrating on most turning and jumping skills.
The awards consist of:
Three Fundamental Area ribbons for each stage
Six stage badges
To receive a stage badge, skaters must achieve all Fundamental Area ribbons (Balance, Control and Agility) from the corresponding stage. The skill requirements for each Fundamental Area are indicated on the report card.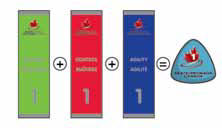 The names of the STAGE badges are:
Stage 1 - Balance
Stage 2 - Glide Forward
Stage 3 - Glide Backward
Stage 4 - Edges
Stage 5 - Power
Stage 6 - Speed

The names of the FUNDAMENTAL MOVEMENT badges are:
Go Forward
Go Backward
Stop
Turn
Spin
Jump
Follow the links on the left hand side to view the schedule/pricing/FAQs.